Most people start their day with a light breakfast. Regardless of what you do for a living, you need a delicious Macedonian breakfast to power you through the day.
Macedonia Times has three breakfast recipes with a distinct Macedonian flavor to kick start your day.
Topenitsa and Cheese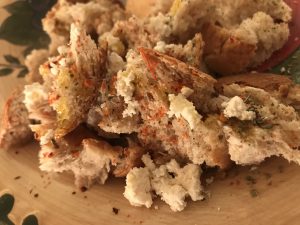 Topenitsa is an old Macedonian recipe invented in the past when no food could go to waste. Back in the days when food additives didn't exist, breads and pogachas could remain soft for a day. It made sense to still use bread leftovers and with a little bit of innovation, the bread was turned into a breakfast dish.
1.
If you have some bread that's become hardened, simply crumble it into pieces in a pot or a deeper pan. Our babas used to put tallow or lard. You can use ghee, butter and even sunflower or olive oil.
2.
Have a bowl of water ready near your stove. Put the pot on low to medium heat and put one or two spoonfuls of lard/tallow/oil until it melts evenly along the surface.
3.
Add the crumbled bread. Sprinkle crushed red pepper – preferably ground bukova piperka, salt to taste or a fingers-catch of vegeta. Mix.
4.
Dip your fingers in the bowl of water you had ready nearby and throw some on the bread with your fingers. Repeat for a few times. The water needs to create steam which will soften the bread, so it's best to cover the pot with a lid once you've sprayed the water.
Don't keep the pot covered for too long – about 30 seconds is enough because you need to give it a good mix.
5.
Mix with a spoon or rattle the pot. Then add crumbled belo sirenje (hard white cheese) or even bieno sirenje (salt brine cheese) and cook for another minute or two.
And you have yourself a delicious Macedonian breakfast that you can enjoy with yogurt.
Ajvar and Eggs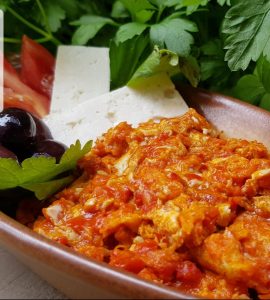 Everyone has tried ajvar on bread, but have you tried ajvar and eggs? Like we said, this one is simple. Crack two or three eggs in a pan. It doesn't matter if want them scrambled, hard-fried or sunny-side up – just add a spoonful of ajvar on top and spread it across the eggs.
If you can do it, place a lid on the pan so that the steam rising from the ajvar stays inside and gives the eggs some extra flavor. When they are done, you can add some seasoning, like ground black pepper or dried thyme, salt to taste and enjoy with a slice of bread.
Those who prefer hard-boiled eggs can enjoy ajvar on the side. The creamy flavor of the baked and fried peppers are complementary with eggs either way.
Cereal with walnuts and cheese
The Macedonian grandmas of older generations were known to surprise their grandchildren with a strange but delicious dish in the morning called popara. Back in the day this used to be made with yesterday's bread, but in modern times it is perfectly fine and perhaps even preferable to use a mix of cereals.
Prepare some tea – any herbal tea with work, including black but not so much green tea. The best, of course, is green or purple mountain tea, majchina dushica (thyme) and even mint tea.
Let it cool for a just a bit because you don't want to pour it on the cereal while it's extremely hot – it will make it soggy.
As your tea is cooling, crumble some walnuts and belo sirenje (hard white cheese) inside the bowl and a little bit of butter. You can also add a little bit of milk for taste. Then pour the tea over and enjoy.