Macedonian winemakers celebrated Saint Trifun's day on February 14 and carried out the traditional pruning of the vines in preparation for the growing season.
Saint Tripun (Trifun) is the protector saint of winemakers (lozari). February 14 is also called the Macedonian Saint Valentine's day because the dates of the two holidays coincide. Grape-growers of the country have been following this tradition for centuries.
The traditional pruning on St Trifun's day is a necessary intervention to remove weak and newly-formed branched on a grapevine, in order to give all the earth's nutrients to those that are already strong.
Some growers invite their local priest and give him the honor of pruning the first vine. The occasion is marked by pouring a few splashes of wine from the previous year on the vine in order to give it a good mark for the growing season.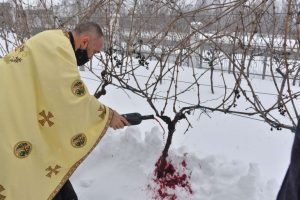 Saint Trifun's day in the Macedonian tradition also has the nickname "the drunkard" – pijanitsata. Early in the morning, those who grow vines bring water to their local church. The priest purifies the water and gives it healing property. Then this water is taken to the vineyard and poured on some of the vines.
This practice has an ancient tradition called libation or 'polevanje' in the Macedonian language. In addition to being observed by grape-growers on St Trifun's day, elderly women pour water behind a family member on various occasions – to bless the person with safe and fruitful travel.
The sale of bottled and packaged wine comprises close to 20% of the agricultural GDP of Macedonia. This is the second-most valuable export after tobacco. About 50% of all the wine is exported to EU countries. Macedonian wine can also be found in the United States, Australia and Canada.
If you want to a complete Macedonian wine experience, Macedonia Tours offer a 3-day wine tour of Macedonia.