While Macedonia's jersey design was declared the best in the competition by ESPN, the Greek Sports Minister Lefteris Avgenakis sent a letter of complaint to UEFA President Alexander Cheferin, about the abbreviation "FFM" on the Macedonian kit.
According to the Greek news portal Ekathimerini, Avenakis and Greek Minister of Foreign Affairs, Nikos Dendiasalso also sent a letter to Macedonia's Bujar Osmani regarding the kit, demanding it be changed to "SM" or "RSM" pointing that the Prespa Agreement between the two countries has clear instructions as to the use of abbreviations.
UEFA was also asked to investigate the name of the Football Federation of Macedonia, in which they clearly want changed as it contains the word "Macedonia" without North.
Macedonia's Foreign Minister responded to the letter during a press conference today,
"The Football Federation of Macedonia is an independent and non-profit organization that is registered in the Central Register as an association that does get fund from the state. According to the Prespa Agreement, the name issue is for institutions, organizations, associations that receive state funds. As long as it does not receive state money, FFM has no obligation to adjust under the Prespa Agreement. The trademarks in the Agreement are defined: the code is MK, MKD. Some ask why it is not NM, NMK, but that code is only for license plates, according to the Prespa Agreement" said Bujar Osmani.
Meanwhile Macedonian fans in Bucharest sing the anthem getting ready for the game:
Ечи Македонската Химна во Букурешт!

Crowds singing the #Macedonian Anthem in Bucharest getting ready for tomorrow's #Macedonia v. #Austria #EURO2020 game. #MKD pic.twitter.com/N0mC9iswAm

— United Macedonian Diaspora (@UMDiaspora) June 12, 2021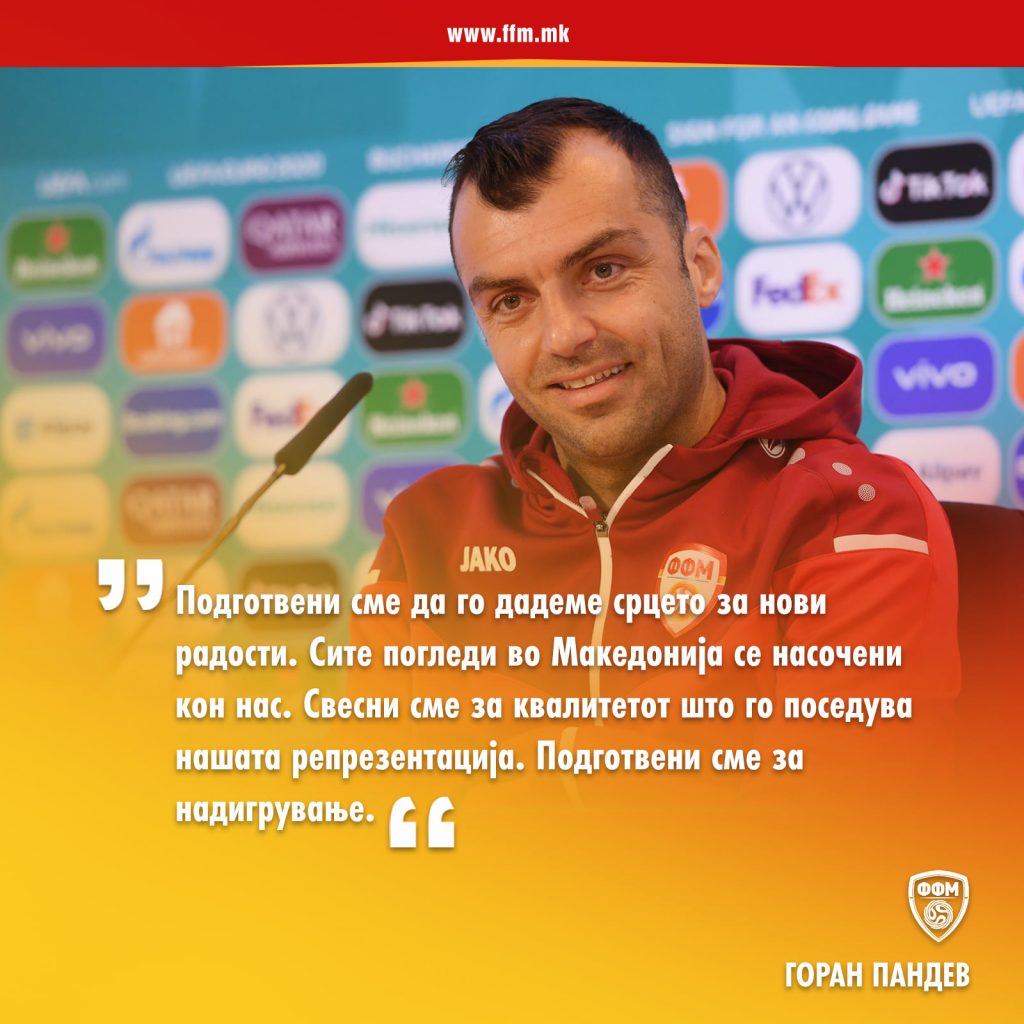 After the team's photo-shoot, Goran Pandev stated, "We are ready to give our hearts for new happiness. Everyone in Macedonia are focused on us. We are conscious of the quality within the representation. We are ready to play above and beyond."