The two members of the Liberal Democratic Party (LDP) have announced they will cast their votes in Parliament independently of the governing coalition.
In a press release on February 22, LDP has stated it has made the decision seven months ago in order to have more room for the promotion of liberal values by their members of parliament Monika Zajkova (pictured) and Bobi Mojsoski.
LDP MPs are going to give continuous support to the governing coalition, according to the statement, and will prove that by casting votes of confidence in respect to misters Ljupco Nikolovski and Bojan Marichik who will soon be the subject of an interpellation (no-confidence vote) by the opposition.
The social democrats SDSM have announced on Monday that their coalition is stable despite LDP's announcement.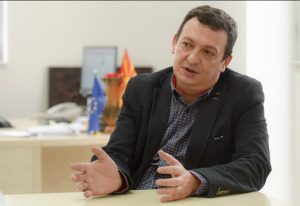 LDP's two MPs complete SDSM's 61-vote majority versus the VMRO-led opposition's 59 votes. This may suggest LDP is preparing for hard bargaining ahead of the municipal elections planned for October in 2021.
SDSM has issued a response, saying LDP leaving the coalition is "fake news" but has not denied its junior partner representatives are not always going to cast their votes in alignment with coalition MPs.
(Edited on February 22, 1:15 PM)
SDSM leader Zoran Zaev has made subsequent remarks that differ from those issued earlier today by his party. Zaev said that LDP's move "injures the coallition's performance" and that the move wasn't necessary "at the moment." Zaev added, LPD could have waited a month to make the announcement.