A regional police commander was arrested by Macedonian police in an operation coordinated with the US Drug Enforcement Agency that captured 200kgs of marijuana worth 800,000 Euros this passing Friday.
According to the police report, the action stopped a van with Greek license plates and two vehicles that drove in front in order to "clear" the way.
Another two vehicles that were related to the drug group were stopped in Prilep and Gevgelija, respectively. The person who drove the vehicle in Gevgelija is claimed to be the one who organized the transport of the marijuana.
A thorough investigation of a number of premises related to the action has yielded firearms, ammunition, hand grenades, expensive wristwatches and close to 14,000 euros in cash.
The US has recently taken an active role in arresting Macedonian government employees as corruption in the country has reached record levels under the Zaev government.
The US embassy was involved in the arrest of Interior of Ministry employees giving out fake passports, while the DEA was directly involved in this latest operation aimed at curbing government corruption.
Macedonia's main opposition party VMRO, has implicated the prime minister's first cousin, Trajche Zaev and his personal driver as part of the drug syndicate.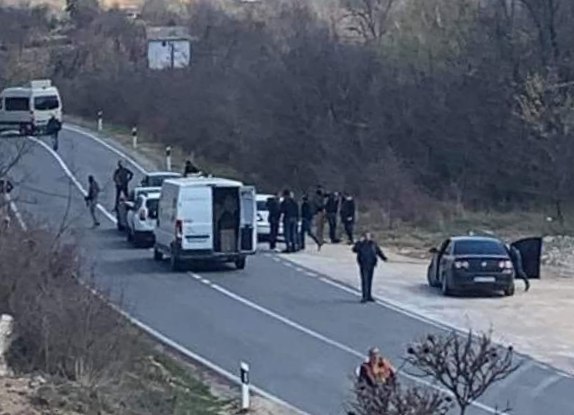 Minister of Interior Oliver Spasovski has not come out with a response to deny or confirm the allegation, however, an official statement from the Government said it will apply the Law in a non-selective manner.
Prime Minister Zoran Zaev has spearheaded an initiative to decriminalize marijuana for medical purposes and recreational use but has not succeeded, mainly because of objections by his coalition partner DUI.
Due to the low demand for the legalized cannabis oil, growers who invested heavily in modern production facilities, have a surplus and ongoing expenses.
it is believed many of the marijuana production plants are tied to the family of Zoran Zaev, including his brother Viktor and cousin Trajche.
Trajche Zaev has posted a comment on Facebook following the allegations by VMRO, saying that the van that was captured by the police does not belong to any of the companies owned by the Zaev's. Trajche Zaev has been on a business trip in Dubai since April 23.
On 9 December 2020, 2 tons (6 mil. euro worth) of marijuana were stolen from a production facility near Valandovo, prompting a police raid in the village of Arachinovo.
About a week following the raid, which yielded a minuscule part of the cargo, the Government issued a
500,000 euro grant
to the municipality of Arachinovo, whose residents have not paid any
property tax in years
.