A group led by television host Suzana Turundzieva visited the newly-renovated house of Hatidze Muratova, showing the result of a successful fundraiser by Macedonians in the diaspora through GoFundMe.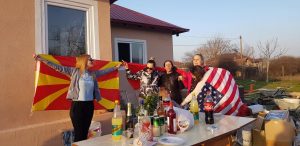 Hatidze is the central figure that collects wild bee honey in the Oscar-nominated and Sundance award-winning feature documentary Honeyland.
Hatidze Muratova, who is of Macedonian/Turkish heritage, has had a difficult life. She was born into poverty and didn't attend formal education. She learned the Macedonian language from her neighbors, while there were still people living in the village.
To help her parents, she learned how to gather wild honey from her grandfather and did numerous chores around the house. Ten years ago she was attacked by her neighbor's dog. The attack, which caused injuries to her face and jaw, was treated by 60 injections and numerous interventions.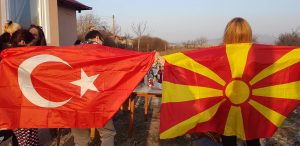 This caused Hatidze to become withdrawn. She even thought about taking her own life.
Her life turned around when a filming crew discovered her story completely by accident. In her interviews, she often said that she wished the filming continued for another three years – that's how happy she was to be part of a documentary film and in the company of people.
Her story and life philosophy (take a little, leave a little) stole the hearts of the entire nation, as well as of those around the world who saw the documentary. She traveled to Hollywood, wore a perfect dress, and attended the Oscar awards ceremony – an unforgettable moment in her poverty-stricken life.
Her return to Macedonia, however, had brought back old woes. Hatidze was unemployed (that has changed since) and couldn't afford a new home.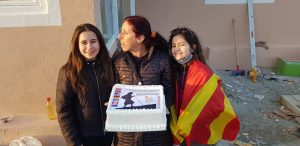 Following the death of her mother, Hatidze had to move out of the old stone house in the desolate village of Bekirlija – now not populated – to the center-east part of Macedonia.
With the help of generous people in Macedonia and from around the world, Hatidze found a new home in the village Dorfulia, located between the town of Veles and Shtip.
With the fundraiser initiated by New York-based couple Maria Mitrevska – Duda and Mauricio DiBiaggio, the house was given a complete makeover.