In a direct attack on ethnic Macedonian identity the Zaev government has taken the extraordinary precedent of banning the use of the word "Macedonia" in internal or external communication for everyone. The Orwellian step taken by the increasingly corrupt government which is now classified as a hybrid regime is a direct attack on Macedonians human rights in the country.
In the move that steps outside the articles of the Agreement with Greece, Minister for Justice Bojan Marichik is denying individuals and entities the right to free speech and self-determination in using the name Macedonia and adjectives derived from it.
An association that has been denied formal registration by the state has filed a motion against the decision with the Administrative Court. The association has objected the decision on the basis that non-government entities that are not funded from the state budget are not barred by the Prespa Agreement from using the name Macedonia.
In its letter explaining the decision to overturn the application, the Ministry of Justice states that the terms "Macedonia, Republic of Macedonia, FYR macedonia and the acronym FYROM cannot be used in the internal and external communication by anyone."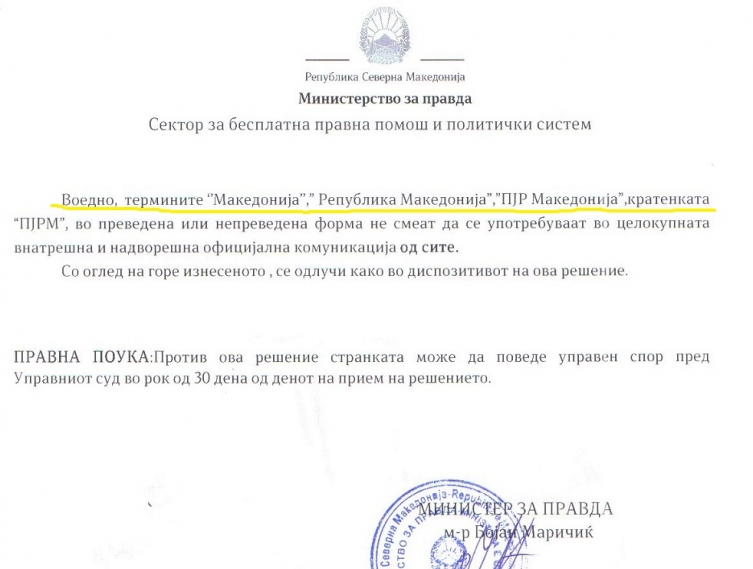 According to article 9 of the Law on foundations and associations, the word Macedonia and words derived thereof, including abbreviations, can be part of the name of the entity only by permission from the Ministry of Justice.
On the other hand, the Prespa Agreement doesn't provision any text that stipulates that associations and legal entities who are not financed by government money are barred from using the noun Macedonia. This shows that the government is taking unprecedented measures in preventing legal entities from making official use of the word Macedonia in their title.
In another case that echoes similar motives by the government, Zarko Maslarkovski, a member of a hip hop group and HC Vardar supporter, was brought to court for "violating the public peace" during the mass celebration of the club's winning of the European Champions title in 2019 in Skopje. Maslarkovski has been charged for "illegally displaying a flag or a coat of arms which don't contain symbols that have been determined by the Law."
The fan and rapper called on the Macedonian public via his Facebook profile to provide him with moral support during his trial.