Ljubomir Frchkovski has been selected to fill the role of Ambassador to the USA. If Washington approves the nomination, Frchkovski is going to assume a post that has remained empty for three years.
Frchkovski is seen as the SDSM ideolog, he is a professor at the national university Cyril and Methodius and has been part of the political establishment since Macedonia's independence in 1991.
He is well known for allegedly playing a role in the attempted assassination of former Macedonian President Kiro Gligorov or its subsequent coverup – an event that took place only two days before Parliament took extraordinary measures to change the ethnic Macedonian flag on October 5, 1995, while the former President was fighting for his life.
In his book about the assassination attempt on Gligorov published in March 2019, former Speaker of Parliament Stojan Andov accuses Frchkovski, then Minister of Interior, for failing to conduct a proper investigation whilst going into "hiding for exactly 23 days" after the explosion on October 3, 1995 which inflicted Gligorov with serious injuries and killed his driver.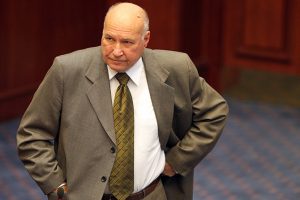 Frchkovski dismissed the accusations, sued Andov for libel and sought to have his book removed from the shelves and prevented from subsequent reprints. Frchkovski won the case but only a few weeks later it was overturned by the Appeals Court in Skopje.
In 2010, several media publications reported a criminal offense filed against Frchkovski by the Ministry of Interior in 2002 for "abuse of official duty."
Specifically, the charge was for Frchkovski's refusal to respond to President Gligorov's invitation to discuss matters of diplomacy and national security due to the unapproved harboring of a Greek intelligence officer in the country.
In 1993 and 1994 Frchkovski had enabled an illegal residence in Macedonia to a member of the Greek intelligence services, Nikolaos Grilakis, who had been in the country under the pretense of evading a case against him mounted by the new government in Greece.
According to the newspaper Biznis, Frchkovski had made the attempt to act as intermediary between Grilakis and Gligorov with the purpose of bribing the Macedonian president to give up the name "Macedonia".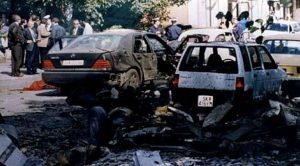 Frchkovski had allegedly made two attempts to buy off Gligorov through his own intermediaries from the Ministry of Interior. In the first attempt, Gligorov was $100,000 in cash, a luxurious golden watch and an antique amphora discovered in a sunken ship.
In his book "Macedonia is All we Have" Gligorov reveals that Frchkovski had sent a message that his 'colleagues' in Greece can deposit $1,000,000 to any bank in the world if he agrees to a solution that gives up the name Macedonia.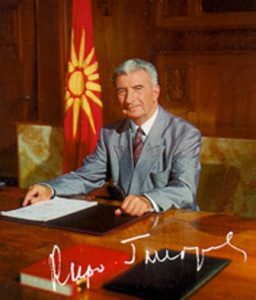 In his unanswered summons to Frchkovski, Gligorov had intended to inform the Minister of Interior that Grilakis' presence in Macedonia can damage the relations with Greece at a time of utmost sensitivity for the country.
Grilakis was a high-profile figure who became the head of Greek military intelligence, coordinator of all intelligence services and advisor on Balkan affairs to Greek Prime Minister Mitsotakis.
In a June 2015 interview, former SDSM security chief from the 90s, Roli Jakupovich claimed Frchkovski is "the biggest criminal and thief" and accused him of frivolous spending on cuff links, luxurious watches, statues, and paintings.
The Bosnian organized crime investigator Osman Vatres stated in a 2002 interview that Frchkovski had a personal hand in the assassination attempt on Kiro Gligorov, while his involvement with a criminal association turned the peaceful Skopje into a criminal hub – which Gligorov wanted to prevent.
The allegations that Frchkovski assigned investigators with little to no experience to investigate the assassination attempt on Gligorov were never contested and the unresolved event remains one of the gravest and consequential attacks on Macedonia's integrity.
Frchkovski's stacked political career have resulted in two violent public outbursts that have been caught on video and was scorned for using vulgar language in verbal attacks and columns against university colleagues, including women, and those who have objected to his controversial remarks.