Vasil Garvanliev, Macedonia's representative at this year's Eurovision song contest has faced a massive backlash at home after a video surfaced where he was depicted with the Bulgarian flag after proudly proclaiming his Bulgarian citizenship.
In the video, the interviewer states that Garvanliev is a citizen of "North Macedonia" when he gets interrupted by the singer who adds "and Bulgaria". Garvanliev then faces the camera and does the two-finger peace sign in approval, where he is depicted with a Bulgarian flag.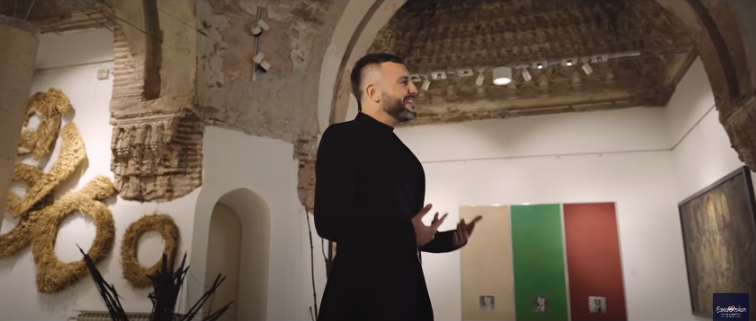 The scandal comes at a sensitive time for ethnic Macedonians – when Bulgaria has officially made the bizarre demand that they should reformulate their identity and "admit" their Bulgarian heritage, as a means to open EU accession negotiations.
The scope of the backlash has been huge with around 10,000 online signatures collected in the first day demanding he not represent Macedonia at the competition.
The new scandal for Garvaneliev comes shortly after a backlash following the appearance of the Bulgarian flag in his video clip for Macedonia's Eurovision song entry.
In that video, Vasil can be seen performing his song in the cultural institution Daut Pashin Hamam in Skopje. Part of the decor is a work by artist Zhaneta Vangeli, inspired by Jesus Christ and the Christian faith, consisting of small images of a religious character pasted on a canvass of white, green and yellow.
The three parts of the art piece that can be seen behind Vasil Garvanliev have been reordered from their original composition in order to appear as the flag of Bulgaria.
Following that controversy and subsequent backlash he quickly noted the flag or artwork depicting the flag would be removed from the video.
Garvanliev apologies for offending anyone in an emotional Facebook address, then explained that his grand mother was from Petrich, (now south west Bulgaria) and based on that his whole family received Bulgarian passports which is allowed by Macedonian law.
The current scandal comes at a heightened period of verbal assaults at ethnic Macedonians coming from Bulgaria, where Macedonian ethnicity is negated and far-right MPs have called on Macedonia to burn, unless they accept being Bulgarian..
Vasil's address to the scandal can be seen on his Facebook profile here.