A single address in Sofia belonging to a regional municipality administration is home to 80,000 Macedonians who hold Bulgarian passports.
This adds another red flag over the veracity of the population census which may be further compromised by third parties using systemic loopholes to manipulate data.
For more than a decade, Bulgaria has kept a citizenship-granting policy that has enabled that country to artificially add numbers to its declining population and to make inroads for political demands in Macedonia.
In its pre-election rhetoric, Bulgaria's ruling coalition has officially began claiming "ownership" of more than 80,000 Macedonians who've become holders of a Bulgarian passport – primarily for economic reasons.
The country's lax policy for issuing a citizenship to individuals who merely claim Bulgarian ancestry, has been the subject of criticism from the EU.
In 2018 at least 10,000 Macedonians bought Bulgarian passports through forged documentation as they could not prove their "Bulgarian ancestry" according to Balkan Insight.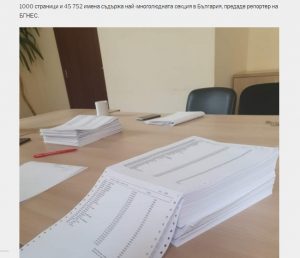 The Bulgarian passports scam saw the selling of passports to nationals of Albania, Moldova, Ukraine and other non-EU countries.
When the citizenship-granting scheme came under scrutiny by the EU, Bulgaria arrested some 20 public notaries and private bureau owners. No such arrests or inquiries have been made in Macedonia where dozens of agencies offer the same fast-track service to an EU passport.
That something is off when it comes to Bulgarian passport holders and Macedonia was made evident by the strange case of #6 Lege Street in Sofia.
This address is the home of 45,752 individuals – most of whom are Macedonians, reports the Bulgarian edition of Deutsche Welle.
According to the municipal mayor of the region Sredets, everyone who has become a Bulgarian national and owns a passport but lives abroad, automatically gets a permanent "home address" in the municipality's administrative building.
The mayor has reported that the most recent number of residents on that address is more than 82,000 individuals. He claims that their voting right remains unused because they are living abroad, but there is no way of confirming this.
Recent headlines about a Bulgarian IT company "donating" a web-based software for the purposes of the census has further discredited the planned census and added to the wave of objections and calls for boycott.
The fact that 80,000 Macedonians are "living" in the municipal building in Sofia further deligitimizes the operation.