A three-person terrorist cell has been indicted in Macedonia by the Prosecution for Organized Crime and Corruption on February 25. The radical Islamic group was well prepared and planning terrorist attacks on the state and civilians in the country.
The prime suspect, born in a village in the Kumanovo region had begun activities that led to the forming of the terrorist cell in early 2019. He was joined by two other individuals and was affiliated with a terrorist group of eight persons that was caught at the end of 2020.
According to the investigation by reports from the Public prosecutor's office, the prime suspect and initiator of the cell secured funds for its functioning which included procuring weapons, munition and other implements intended to be used in their planned attacks.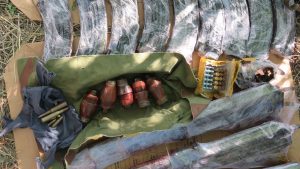 The person, initialed A. B., had organized meetings with other people during which he showed the attendees videos promoting radical Islamic ideology and instructions on producing explosive devices.
The other two of the accused terrorists were given specific objectives and exercises like securing a safe house and storage for weapons and ammunition. The investigation had found that the cell had succeeded in producing improvised explosive devices and had sourced details about the frequency of movement and security of various objects and locations.
On two occasions, between the months of April and August of 2020, the members of the cell had tested their improvised explosive devices in the building of the abandoned hotel Ku-Ba near the village Proevce in the Kumanovo region.
As part of their training, the individuals had been using a rocket launcher and automatic rifles in the vicinity of a location called Menkova Koliba.
The indicted will be tried in the coming period. The expected charges are intent to commit acts of terrorism, murder civilians and personnel of the state, inflict bodily harm, destruction of public and infrastructural objects in Macedonia.
This is the second terrorist cell that has been caught in preparing to commit acts of terrorism in the past two years. In 2020, the Macedonian police successfully broke up a cell of eight individuals who were active in the Skopje and Kumanovo regions.
The US State Department had reported that radical Islamic fighters from Macedonia and Kosovo returning from Iraq and Syria are the biggest threat for the country. according to the National Committee for combating violent extremism and terrorism, 153 Macedonian citizens have been active in warzones in the Middle East.