The Confederation of Free Syndicates – an association that represents multiple industries across the country told the government it is enough.
Their symbolic protest in front of Parliament, titled "Dosta e, preteravte" (Enough, you've gone too far), stated the grievances of workers and the poor living conditions they have to endure since the start of the pandemic.
Blagoja Ralpovski, one of the leaders of the Confederation, pointed to multiple areas where the government has failed them.
According to Ralpovski, the new packet of measures to help the economy includes an increase of 1.7% to the minimum monthly salary – not enough to offset the 2% inflation for the month of March.
The government's decision to make Sunday a non-working day has been revised to exclude a greater number of sectors.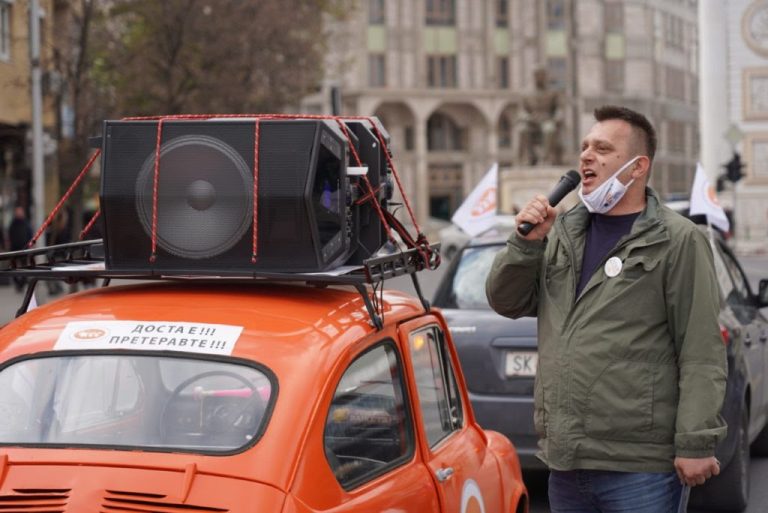 Ralpovski says due to pressure from business owners, an increasing number of people, like those in the shopping malls and supermarkets, will be made to work on Sunday while everybody else is resting.
Another grievance targets companies that don't cover 100% of expenses sustained by workers who've fallen sick to the corona virus, even though the law requires it.
The Confederation of Free Syndicates has accused the government of pretending to listen, but makes all contact only a formality as there is no social dialog, leaving workers' grievances unanswered by the institutions.
Rampovski stated that syndicate leaders are faced with various forms of pressure, including threats for losing their job, but, he says, the group will continue to raise its voice for the rights of the workers.
If nothing changes, the Confederation of Free Syndicates announced they are prepared to take to the streets in a mass protest.
Since the start of the pandemic, the Macedonian economy has felt multiple crunches with large sectors laying off workers and some companies closing their premises altogether.
The most recent set of measures shut down cafes, restaurants, the events industry, fitness centers and other businesses, adding to the growing unemployment numbers in recent months.