The facilitator in the negotiations with Bulgaria, Vlado Buchkovski, applauded the first broadcast of the Bulgarian National Television (BNT) on the T-Home cable network in Macedonia.
It wasn't any coincidence that BNT chose to play a Bulgarian historic movie about the Macedonian komiti in the first hours of its presence in Macedonia.
This also coincided with signing of the short-lived San Stefano treaty on March 3, 1878 in which Russia gave Macedonia to Bulgaria and thus initiated the dream of a Greater Bulgaria.
Bulgaria's actions come as official Sofia tries to force Macedonia to give up it's identity and to accept Bulgarian version of its history, according to which there is no separate Macedonian ethnicity or language.
Soon after the broadcast on Wednesday, Buchkovski posted on his Twitter a snapshot of BTV's broadcast on his television set, but there wasn't a follow up featuring a screenshot of MRT on Bulgarian TV.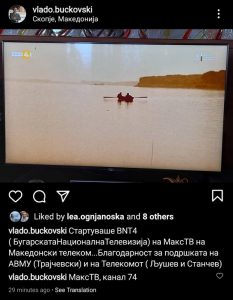 The broadcasting of Macedonian Radio Television (MRT) on Bulgarian TV and vise versa was part of the deal struck by Buchkovski with his Bulgarian counterpart.
While there shouldn't be much controversy about two countries simply swapping their national television channel's broadcasts, the case of Macedonia and Bulgaria is a specific one.
It remains to be seen whether the Macedonian television service is going to be broadcast in Bulgaria at all.
If it does, it may choose to refrain from showing Macedonian historic productions, in order not to anger Bulgaria who wants to reformulate the core Macedonian national history.
That Bulgaria will broadcast its version of Macedonian history became evident with the showing of a komiti-themed movie. For now, the national TV deal is another example of the asymmetrical demands and expectations by Bulgaria.