Macedonia's Prime Minister Zoran Zaev caused a wave of outrage and popular outcry following his interview for the Bulgarian news agency BGNES. Zaev described the fascist Bulgarian occupation of Macedonia in WWII as "not fascist" but only an "administration" and said that Yugoslavia had divided the Bulgarian and Macedonian people.
Zaev's remarks have been seen as a direct attack on the foundations of the modern Macedonian state, which was created through the anti fascist struggle and resulted in the creation of the Socialist Republic of Macedonia.
The popular outcry was joined by all opposition parties and former Macedonian Presidents, Branko Crvenkovski and Gjorge Ivanov, among others.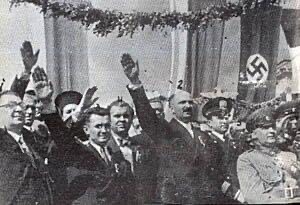 On his Facebook account Ivanov wrote, "The price for solving the Macedonian question (in relation to accepting Bulgaria's terms) is the current and historical destruction of the Macedonian nation, Macedonian identity and Macedonian language."
Current SDSM member and former Prime Minister Crvenkovski distanced himself from Zaev's statements and suspended his party membership as a sign of revolt, stating "the positions of Zaev are not the position of the whole government", he continued, "the positions and opinions stated in that interview will have long lasting ramifications for the Macedonian people and Macedonian state".
Irena Stefoska, who heads the Ministry of Culture, had a less severe tone in her remarks about the Prime Minister's attempt to downplay Bulgaria's role as an Axis power during World War 2. Instead, she focused on that country's veto of Macedonia bid to join the EU.
Stefoska stated that the Prime Minister wants to "literally push his country to move forward," but added that his attempts at softening Bulgaria's hard line against Macedonia are not going to help that country and its society deal with the shadows of its own past.
Stefoska remarked that every country should take responsibility to address its own past and that Bulgaria shouldn't block Macedonia's bid for the EU with ultimatums for revisionism of the historic and national contexts.
As a direct response to Zaev's interview, Macedonia's main opposition party VMRO-DPMNE called for protests across Macedonia starting at 18:00, with opposition party Levica calling for a protest in front of the government in Skopje starting 18:30.