Skopje's Mayor, Petre Shilegov, wants to "destroy" the architectural and beautification project from the previous government, as a continuation of his party's pre and post-coup rhetoric.
Shilegov's exact words during an interview for television channel Telma were: "Allow me and I will destroy Skopje 2014."
The question of the possible dismantling of dozens of monuments was not merely empty, pre-election talk on the part of SDSM.
It appears that a plan is in the works and that the current establishment is either moving slowly on it or it is waiting for the right moment to carry out a mass-scale removal of monuments.
Shilegov's statements are a provocation for the majority of Macedonians to whom the monuments are a reflection of their identity. After all, the monuments of Skopje 2014 were long past due.
All previous governments neglected to address the issue of intentional suppression of all forms of Macedonian nationalism during Yugoslavia.
Instead of a comprehensive representation of historical figures and events, the Communist government of Macedonia only cared for WW2 partisans, leaving out many notable figures from the national past.
VMRO-DPMNE decided to fill the void and they did nothing wrong. The monuments of Macedonian rulers from antiquity were not a misappropriation of history simply because these political and military figures are tied to the territory of Macedonia.
The only reasonable explanation why Shilegov wants to remove them from public sight is because it has been demanded from him and his SDSM.
Otherwise, no one would dare think of incurring the substantial cost of removing and transporting the monuments when Macedonia is cash-strapped and running the highest national debt to GDP ratio ever – supported by new loans and Eurobonds.
Shilegov wants to remove the monuments to a remote site in order to create a "Memento Park". He never stated the location of this park, so it could be as far away from Skopje as possible.
In his interview for Telma, Shilegov stated the reason why he wants to dismantle a large part of the Skopje 2014 monuments – because they are not authentic to Skopje.
Before and during the coup, which began in 2016, SDSM and their foreign-backed Colorful Revolution claimed repeatedly that Skopje 2014 represents an "antiquisation" of the city's past.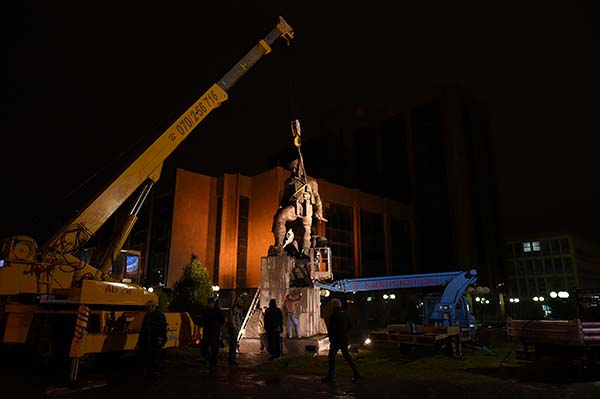 This is outright wrong. Skopje has several archaeological sites that are rooted in antiquity, like the Agrianian royal chamber and the city of Scupi. Numerous steles, statues and other artifacts were discovered in and around Skopje, dating from antiquity.
Tauresium, a village that is part of the Skopje plain, was the birthplace of Byzantine emperor Iustinianus Primus who was known for being a legislator who further enshrined Christian norms in the empire's legal code.
Skopje became a stronghold of the chieftain Karposh in the 17th century in his uprising against the Ottomans and two centuries later, many of the Macedonian Komiti stayed in Skopje to prepare for the national liberation struggle.
Skopje 2014 includes monuments that represent Albanians and Turks, Serbs, Croats, as well as universal ideas and values such as those of Mother Teresa.
In that view, Skopje 2014 is a natural reflection of Skopje's long and rich past. Skopje didn't begin its existence as a city after World War 2.
If Shilegov brings into fruition the Law he intends to prepare in order to obliterate Skopje 2014, he would be doing service to everyone else but the people of Macedonia.
The mayor already signed off on replacing hundreds of street names in Skopje, some with the names of controversial figures or outright antagonistic to the idea for a Macedonian independent state.