Kiril Makedonski, born on January 19, 1925 in Bitola, author of the first Macedonian Opera "Goce" and national plays like "Tsar Samoil", "Goce" and "Ilinden" was a Macedonian composer, music professor and proponent of musical therapy for which Cambridge awarded him with an international recognition.
Makedonski authored numerous musical pieces for television, film and radio that have been performed in the United States, Argentina, Germany, Romania, Bulgaria and many other countries, including Macedonia.
The opera 'Goce,' which was performed in 1954 by another great Macedonian composer, Todor Skalovski and directed by actor Petre Prlichko, was the first Macedonian opera. It paid tribute to the quintessential Macedonian revolutionary hero, Goce Delchev.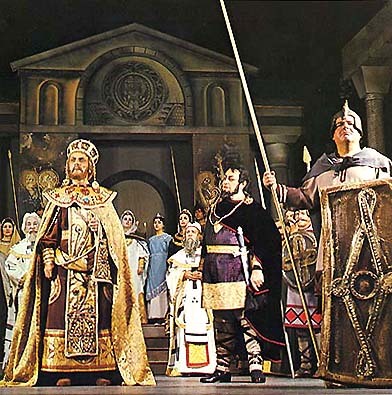 Kiril Makedonski composed his most notable works, including the operas Goce and Tsar Samoil, relying on his hearing memory and rarely with the use of any musical instruments.
During his student years Kiril Makedonski spent time in a Zagreb jail for distributing leaflets for a free and independent Macedonia, during the investigation by police he was referred to as the "Macedonian phantom" and accused of being part of the outlawed VMRO. Subsequently Makedonski faced challenges in Yugoslavia and was unable to stage the opera Tsar Samoil that he composed in 1966.
The Bulgarian opera singer Boris Hristov offered Makedonski help in staging Tsar Samoil in Rome under the condition that he presents Samoil as Tsar of Bulgaria. Makedonski refused Hristov's proposal.
Tsar Samoil was subsequently performed as many as 50 times in Macedonia.