Damjan Davkov, whom the Macedonian public recently nicknamed the "Pythagoras from Shtip" after his home city, entered and won a mathematics olympiad for high school students, even though he is still in the eighth grade.
Damjan earned both recognition and a financial stipend from the Ministry of Education, however, the Ministry of Education has refused to honor it.
Causing an uproar of public disapproval, the Ministry of Education stated that Damjan isn't eligible for a stipend because he'd won a competition at the high school level.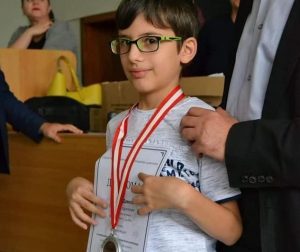 Vigilant individuals took to examining the bylaws of the competition and relevant laws to discover that the high school mathematics olympiad doesn't bar younger mathletes from taking part.
Minister of Education, Mila Carovska has been quick to put the blame on the Macedonian Mathematicians Alliance for sending young Damjan to the high school competition without first considering the rules.
Damjan's mother, Nikica Davkova, however, says she is going to sue the Ministry of Education, claiming it is not true that the rules of the competition limit it to high school students only.
"I read the official announcement by the Ministry of Education. It doesn't say anywhere that the mathematics olympiad is reserved for high school students 'only," argues Nikica Davkova.
The scandalous treatment of Damjan's success, which sends a bad message to ambitious and talented young people across the country, comes at a bad time for Minister of Education Carovska as her plans for a sweeping reform of the public primary education system is being met by vehement objections from experts and the public.